Engineering
Heating Furnaces / Kilns

Drying Furnace

Batch Kiln

Far Infrared Conveyer Furnace

Other Drying Furnaces

Roll to Roll Far-infrared Heating Furnace

Far Infrared Heater

Firing Kiln

Roller Hearth Kiln

Rotary Kiln

Batch Kiln

Refractory

Search by industry or usage

Energy

Electronics

Automobiles

Displays and lighting

Other

Mixing Technology

SM Engineering Equipment

Heating and Cooling Systems

Mixing Systems

Powder and Liquid Dispersion System

Reaction System

Laboratory Test Systems

Heat Exchangers

Static Mixer (SM)

Gas absorption(Option)

Homogenization

Miixing

Option Parts

Search by industry or usage

Cooker / Steam Mixer

Cutting Machine (Thin Cut Master : TCM)

Filtration Systems

Search lubricants

Coolant Filtration Systems

Centrifuge

Coolant Tank Unit

Magnetic Separator

Cyclone Separator

Paper Filter

Backwash Filter

Centralized Filtration Systems

Search filtration materials

Filtration Related Systems

Ceramic filter
Technical Support

Catalog Download
Scale-up is easy since the simulator was duplicated to same inside kiln structure of RHK.
Volume production is easy since it can easily shift to continuous RHK in the same setting.
Heat is transferred through gaps between rollers effectively and fires products quickly.
The best for a laboratory, since it is compact.
Available for atmospheres such as N2, O2, etc.
Various calcination tests and a production condition setup are possible.
Kiln inside can be consisted entirely of ceramics which prevent metal contamination from generating and is ideal for battery materials, etc.
| | |
| --- | --- |
| Maximum temperature | Max.1400℃ |
| Atmosphere | Air、N2、O2、Ar、CO2 |
| Dimension | 1300L×1300W×2100Hmm |
| Effective dimension | 330L×330W×100Hmm |
| Heat source | Electricity |
Shifting to continuous kiln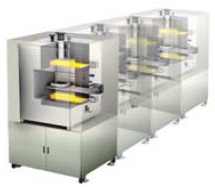 Firing setting on this furnace can be used for mass production by Atmosphere Roller Hearth Kiln.