PRODUCTS
Display Heating System
Engineering
Heating Furnaces / Kilns

Drying Furnace

Batch Kiln

Far Infrared Conveyer Furnace

Other Drying Furnaces

Roll to Roll Far-infrared Heating Furnace

Far Infrared Heater

Firing Kiln

Roller Hearth Kiln

Rotary Kiln

Batch Kiln

Refractory

Search by industry or usage

Energy

Electronics

Automobiles

Displays and lighting

Other

Mixing Technology

SM Engineering Equipment

Heating and Cooling Systems

Mixing Systems

Powder and Liquid Dispersion System

Reaction System

Laboratory Test Systems

Heat Exchangers

Static Mixer (SM)

Gas absorption(Option)

Homogenization

Miixing

Option Parts

Search by industry or usage

Cooker / Steam Mixer

Cutting Machine (Thin Cut Master : TCM)

Filtration Systems

Search lubricants

Coolant Filtration Systems

Centrifuge

Coolant Tank Unit

Magnetic Separator

Cyclone Separator

Paper Filter

Backwash Filter

Centralized Filtration Systems

Search filtration materials

Filtration Related Systems

Ceramic filter
Technical Support

Catalog Download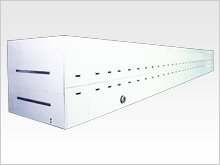 We utilize our clean IR heating, precise temperature control and efficient ventilation technologies in our drying lines for glass substances used in high definition displays. We ensure high through-put while saving space and energy.
PDP/FED/FFL Heating System

The most suitable system is offered for any customer based on our abundant experience under actual conditions.

Original R&D enabled us to develop a lot of features. Excellent levels of performance operation and maintenance are available with these energy and space saving concepts.

Heating system for Organic EL, inorganic EL etc Meets new process requirements, and realizes clean precise and optimal heat treatment.Hi vacuum and N2 atmosphere treatment are available.