Sulfuric Acid Dilution System
PRODUCTS
Sulfuric Acid Dilution System
Engineering
Heating Furnaces / Kilns

Drying Furnace

Batch Kiln

Far Infrared Conveyer Furnace

Other Drying Furnaces

Roll to Roll Far-infrared Heating Furnace

Far Infrared Heater

Firing Kiln

Roller Hearth Kiln

Rotary Kiln

Batch Kiln

Refractory

Search by industry or usage

Energy

Electronics

Automobiles

Displays and lighting

Other

Mixing Technology

SM Engineering Equipment

Heating and Cooling Systems

Mixing Systems

Powder and Liquid Dispersion System

Reaction System

Laboratory Test Systems

Heat Exchangers

Static Mixer (SM)

Gas absorption(Option)

Homogenization

Miixing

Option Parts

Search by industry or usage

Cooker / Steam Mixer

Cutting Machine (Thin Cut Master : TCM)

Filtration Systems

Search lubricants

Coolant Filtration Systems

Centrifuge

Coolant Tank Unit

Magnetic Separator

Cyclone Separator

Paper Filter

Backwash Filter

Centralized Filtration Systems

Search filtration materials

Filtration Related Systems

Ceramic filter
Technical Support

Catalog Download
The dilution system continuously produces sulfuric acid at a consistent concentration through inline dilution of concentrated sulfuric acid. Dilution to the designated strength is performed in the dispersion mixer, and sulfuric acid that reaches high temperatures due to heat of dilution is cooled to the designated temperature with a heat exchanger.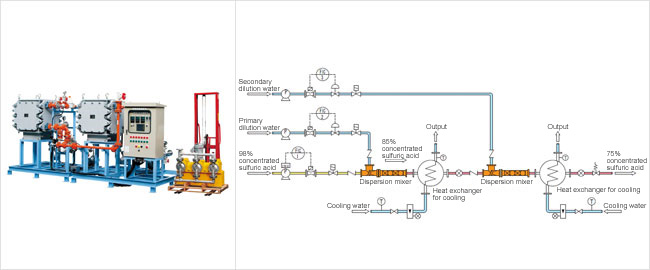 The system can continuously produce sulfuric acid diluted to a designated concentration by diluting concentrated sulfuric acid with a dispersion mixer.
It's safe because it's inline.
Heat produced from dilution is removed by a heat exchanger, and the diluted sulfuric acid can be cooled to the designated temperature rapidly.
The system maintains pressurized pipes and comes equipped with a backpressure valve to eliminate vaporization of diluted sulfuric acid that gets heated past its boiling point due to heat of dilution. (Patented.)
There are no actuators other than the pump, so hardly any maintenance is required.
The device is compact and takes up little installation space.
It's fully automatic and easy to operate.
Processing capacity
Input - 98% concentrated sulfuric acid: 2.74 m³/h, 30°C
Primary dilution water: 0.77 m³/h, 30°C
Secondary dilution water: 0.77 m³/h, 30°C
75% concentrated sulfuric acid: 4.0 m³/h, 50°C or cooler
Utilities
Cooling water: 32 m³/h, 30°C
Electricity: 200 V three-phase
Dimensions and weight
3800L×1800W×2120H (mm)
Approx. 3,800 kg