Heating and Cooling Systems
PRODUCTS
Heating and Cooling Systems
Engineering
Heating Furnaces / Kilns

Drying Furnace

Batch Kiln

Far Infrared Conveyer Furnace

Other Drying Furnaces

Roll to Roll Far-infrared Heating Furnace

Far Infrared Heater

Firing Kiln

Roller Hearth Kiln

Rotary Kiln

Batch Kiln

Refractory

Search by industry or usage

Energy

Electronics

Automobiles

Displays and lighting

Other

Mixing Technology

SM Engineering Equipment

Heating and Cooling Systems

Mixing Systems

Powder and Liquid Dispersion System

Reaction System

Laboratory Test Systems

Heat Exchangers

Static Mixer (SM)

Gas absorption(Option)

Homogenization

Miixing

Option Parts

Search by industry or usage

Cooker / Steam Mixer

Cutting Machine (Thin Cut Master : TCM)

Filtration Systems

Search lubricants

Coolant Filtration Systems

Centrifuge

Coolant Tank Unit

Magnetic Separator

Cyclone Separator

Paper Filter

Backwash Filter

Centralized Filtration Systems

Search filtration materials

Filtration Related Systems

Ceramic filter
Technical Support

Catalog Download
At Noritake, we offer inline heating and cooling systems using Noritake cookers and SM heat exchangers that are applied as static mixers.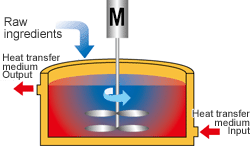 Standard methods require time for heating, and unevenness or scorching could happen easily.
Steam is directly applied to the raw material.
All the heat in the steam is transferred.
Rapid heating eliminates unevenness and scorching.
Indirect Heating/Cooling Method
The static mixer is inserted through the heating pipe.
Homogenization of raw ingredients by mixer stirring.
Excellent heat-exchange efficiency allows for downsizing and reduced heating times.
Installation space reduced by omission of heating and cooling tanks.
Inline processing maintains a safe and hygienic work environment.
Uniform heating and cooling is possible through accurate volume and temperature control thereby improving product quality.
Heating and Cooling Systems Product List