Engineering
Heating Furnaces / Kilns

Drying Furnace

Batch Kiln

Far Infrared Conveyer Furnace

Other Drying Furnaces

Roll to Roll Far-infrared Heating Furnace

Far Infrared Heater

Firing Kiln

Roller Hearth Kiln

Rotary Kiln

Batch Kiln

Refractory

Search by industry or usage

Energy

Electronics

Automobiles

Displays and lighting

Other

Mixing Technology

SM Engineering Equipment

Heating and Cooling Systems

Mixing Systems

Powder and Liquid Dispersion System

Reaction System

Laboratory Test Systems

Heat Exchangers

Static Mixer (SM)

Gas absorption(Option)

Homogenization

Miixing

Option Parts

Search by industry or usage

Cooker / Steam Mixer

Cutting Machine (Thin Cut Master : TCM)

Filtration Systems

Search lubricants

Coolant Filtration Systems

Centrifuge

Coolant Tank Unit

Magnetic Separator

Cyclone Separator

Paper Filter

Backwash Filter

Centralized Filtration Systems

Search filtration materials

Filtration Related Systems

Ceramic filter
Technical Support

Catalog Download
Thermocouple with protecting tube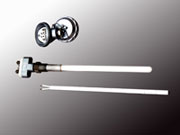 Ceramic protection tube prevents erosion from atmosphere gas and to stabilize temperature measuring accuracy.
Depending on the customer's usage, we offer various materials for the protection tube.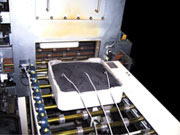 Thermocouple covered with insulation material such as resin, glass, ceramic,etc. is light and soft enough for portable temperature measurement.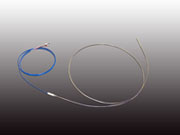 Thermocouple protected by metal sheath such as SUS provides flexibility for mounting in narrow spaces.
Type
Materials
Temperature
Positive Wire
Negative Wire
K
Chromel
Alumel
0 - 1000°C
J
Iron
Constantan
0 - 400°C
R
Platinum Rhodium
Platinum
400 - 1400°C
B
Platinum Rhodium
Platinum Rhodium
800 - 1600°C
PR40-20
Platinum Rhodium
Platinum Rhodium
1000 - 1700°C
*Working temperature is recommended by JIS(Japanese Industrial Standard).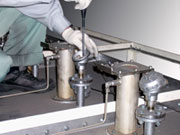 Periodical temperature calibration is required because thermocouple deteriorates with time.
Noritake makes temperature calibration program depending on environment use and supports quality control.
Products using precious metals such as platinum can be very expensive.
Noritake recasts and recycles used wire.
Depending on the circumstances, protection tubes and terminals may be damaged earlier than thermocouple.
Noritake can make partial repairs and suggestions on improvement methods.