Sludge Solidification Machines
PRODUCTS
Sludge Solidification Machines
Engineering
Heating Furnaces / Kilns

Drying Furnace

Batch Kiln

Far Infrared Conveyer Furnace

Other Drying Furnaces

Roll to Roll Far-infrared Heating Furnace

Far Infrared Heater

Firing Kiln

Roller Hearth Kiln

Rotary Kiln

Batch Kiln

Refractory

Search by industry or usage

Energy

Electronics

Automobiles

Displays and lighting

Other

Mixing Technology

SM Engineering Equipment

Heating and Cooling Systems

Mixing Systems

Powder and Liquid Dispersion System

Reaction System

Laboratory Test Systems

Heat Exchangers

Static Mixer (SM)

Gas absorption(Option)

Homogenization

Miixing

Option Parts

Search by industry or usage

Cooker / Steam Mixer

Cutting Machine (Thin Cut Master : TCM)

Filtration Systems

Search lubricants

Coolant Filtration Systems

Centrifuge

Coolant Tank Unit

Magnetic Separator

Cyclone Separator

Paper Filter

Backwash Filter

Centralized Filtration Systems

Search filtration materials

Filtration Related Systems

Ceramic filter
Technical Support

Catalog Download
With the growing awareness for global environmental conservation these days, there is an increasing focus on efforts by business to accommodate the creation of a recycle-oriented society. Our company currently manufactures and sells grinding sludge solidification machines that enable materials that result from the solidification of grinding sludge (after removal of water and oil) to be recycled as raw materials rather than being mainly processed as industrial waste for landfill disposal. We also aim to construct the recycling systems that are indispensible for recycling solidified sludge (briquettes).
In order to develop solidification machines, we've drawn on the strengths of NTN Corporation, applying techniques developed through high-volume testing. We have created commercial products through ground-breaking technology that is capable of solidifying grinding sludge without the use of hardening agents so that the coolant can be reused and the resulting briquettes can be recycled.
Going forward, our company will continue to engage in productive research and development for recycling industrial waste produced from grinding processes, to develop unique products that are useful for reducing the environmental impact, and to contribute by achieving zero emissions.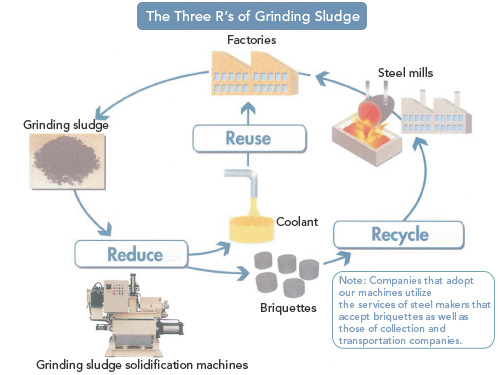 What is a grinding sludge solidification machine?
The sludge discharged during the grinding process contains moisture or oils used as a coolant, and both transport and waste disposal of this sludge are extremely difficult. A grinding sludge solidification machine efficiently compresses the sludge, thereby reducing weight and volume.
It also converts the solidified sludge into a briquette form facilitating subsequent handling.
Volume reduced from one-third to one-fifth of original sludge (weight reduced about three-fifths).
The majority grinding sludge volume consists of coolant.
The proportion accounted for by coolant is reduced to 10% or less through solidification.
Coolant recovery rate: 90% or more
Coolant discharged during solidification can be reused.
These machines can handle a wide variety of grinding sludge.
These machines include a unique compression and dehydration device that enables them to accommodate the grinding sludge produced during the machining processes for producing bearings and automotive components. (See diagram at right.)
Compression and dehydration device
A suitable speed can be chosen for when grinding sludge is compressed.
Cost Reduction Through Grinding Sludge Solidification
Reduction in waste processing costs
Processing costs can be reduced by reducing the amount of grinding sludge produced.
Cost reduction = discharge amount × processing fee × (approx. 50%)


Coolant reuse
Coolant can be reused through a simple filtration device.
Cost reduction = discharge amount × (approx. 50%) × (coolant cost)


Total cost reduction
Total cost reduction = waste processing cost (1) × coolant cost (2)
Model-Specific Specifications
PRG-I (100 t) Machine Specification
Processing
capacity* (kg/h)
(water-soluble sludge) up to 80
(oil-soluble sludge) up to 40
Water/oil removal
amount (% by weight)
90% or more
Compression
capacity (kN)
max. 1010
Briquette
diameter (mm)
Φ70
Compression surface
pressure (MPa)
Up to 263 (theoretical value)
Hopper capacity (L)
50
Total power
capacity (kVA)
10
Rough dimensions
(L × W × H mm)
Approx. 2,510 × 850 × 2,200
*Processing capacity may vary according to the state of the sludge.