Adhesive Temperature Adjusting System
PRODUCTS
Adhesive Temperature Adjusting System
Engineering
Heating Furnaces / Kilns

Drying Furnace

Batch Kiln

Far Infrared Conveyer Furnace

Other Drying Furnaces

Roll to Roll Far-infrared Heating Furnace

Far Infrared Heater

Firing Kiln

Roller Hearth Kiln

Rotary Kiln

Batch Kiln

Refractory

Search by industry or usage

Energy

Electronics

Automobiles

Displays and lighting

Other

Mixing Technology

SM Engineering Equipment

Heating and Cooling Systems

Mixing Systems

Powder and Liquid Dispersion System

Reaction System

Laboratory Test Systems

Heat Exchangers

Static Mixer (SM)

Gas absorption(Option)

Homogenization

Miixing

Option Parts

Search by industry or usage

Cooker / Steam Mixer

Cutting Machine (Thin Cut Master : TCM)

Filtration Systems

Search lubricants

Coolant Filtration Systems

Centrifuge

Coolant Tank Unit

Magnetic Separator

Cyclone Separator

Paper Filter

Backwash Filter

Centralized Filtration Systems

Search filtration materials

Filtration Related Systems

Ceramic filter
Technical Support

Catalog Download
The adjustment system applies heat up to a set temperature to homogenize adhesive chemicals using a SM multi tube heat exchanger.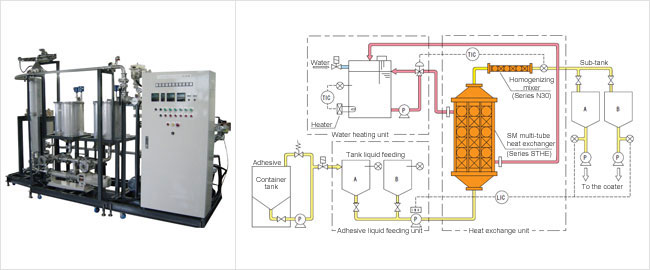 By using an SM heat exchanger, efficient heating of high-viscosity adhesives is possible without requiring much installation space.
By using a static mixer installed at the heat exchanger output, temperature is stabilized and temperature accuracy improves.
The water heating unit is attached in an all-in-one design.
A steam or an electric heater can be selected as a heat source for heating water.
Adhesive fluid flow rate can be automatically controlled according to the fluid level signal from the sub-tank in front of the coater.
By using a temperature sensor at the static mixer output, the flow rate of hot water to the SM heat exchanger is controlled automatically, ensuring even greater adhesive temperature uniformity.
We can also build an all-season model that includes a chiller unit, and can feed adhesive at a uniform temperature all year round by heating the adhesive in winter and cooling it in summer. This model allows the application of an adhesive coating that is always the same thickness.
Processing capacity
Adhesive: 300–1,350 kg/h
Temperature: 5–10°C (winter) → 25°C
Utilities
Electricity: 200V three-phase
Hot water: 11,000 kg/h (30°C: winter)
Air: 0.49 MPaG
Dimensions and weight
3600L×1200W×2500H (mm)
Approx. 1,500 kg