Engineering
Heating Furnaces / Kilns

Drying Furnace

Batch Kiln

Far Infrared Conveyer Furnace

Other Drying Furnaces

Roll to Roll Far-infrared Heating Furnace

Far Infrared Heater

Firing Kiln

Roller Hearth Kiln

Rotary Kiln

Batch Kiln

Refractory

Search by industry or usage

Energy

Electronics

Automobiles

Displays and lighting

Other

Mixing Technology

SM Engineering Equipment

Heating and Cooling Systems

Mixing Systems

Powder and Liquid Dispersion System

Reaction System

Laboratory Test Systems

Heat Exchangers

Static Mixer (SM)

Gas absorption(Option)

Homogenization

Miixing

Option Parts

Search by industry or usage

Cooker / Steam Mixer

Cutting Machine (Thin Cut Master : TCM)

Filtration Systems

Search lubricants

Coolant Filtration Systems

Centrifuge

Coolant Tank Unit

Magnetic Separator

Cyclone Separator

Paper Filter

Backwash Filter

Centralized Filtration Systems

Search filtration materials

Filtration Related Systems

Ceramic filter
Technical Support

Catalog Download
High Airtight Atmosphere Control

The multiplex seal structure provides superior air-tightness. This also allows for super low oxygen concentration with limited supply of gas.
Shorter Substitution Time in Kiln

NORITAKE original double gas supply method (direct supply + penetration supply) and vacuum decompression provides shorter substitution time, helping improve the overall production efficiency.
Uniform Temperature Distribution
Heaters are arranged around the circular setters to heat from all three directions.
Space saving and efficient production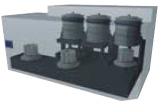 Multiple kiln units and handing systems can be controlled automatically for space saving and efficient production.
| | |
| --- | --- |
| Maximum temperature | 1400℃ |
| Atmosphere | Air, Special atmosphere gas |
| Heat source | Electricity |
■Effective demension
Model
Size
A-AF-500
4piles
φ500×400H(mm)
A-AF-850
8piles
φ750×400H(mm)