Fully Automatic Powder Processing System
PRODUCTS
Fully Automatic Powder Processing System
Engineering
Heating Furnaces / Kilns

Drying Furnace

Batch Kiln

Far Infrared Conveyer Furnace

Other Drying Furnaces

Roll to Roll Far-infrared Heating Furnace

Far Infrared Heater

Firing Kiln

Roller Hearth Kiln

Rotary Kiln

Batch Kiln

Refractory

Search by industry or usage

Energy

Electronics

Automobiles

Displays and lighting

Other

Mixing Technology

SM Engineering Equipment

Heating and Cooling Systems

Mixing Systems

Powder and Liquid Dispersion System

Reaction System

Laboratory Test Systems

Heat Exchangers

Static Mixer (SM)

Gas absorption(Option)

Homogenization

Miixing

Option Parts

Search by industry or usage

Cooker / Steam Mixer

Cutting Machine (Thin Cut Master : TCM)

Filtration Systems

Search lubricants

Coolant Filtration Systems

Centrifuge

Combination filtration system

Filter

Magnetic Separator

Search filtration materials

Filtration Related Systems
Technical Support

Catalog Download
With power firing systems, Noritake can offer various support systems that can help improving your process.
We have non-contaminant instruments and systems such as powder feeders, collection units,transfer equipment and others that match the unique characteristics of the powder material.
This complete system can provide efficiency, stability, and precise quality control.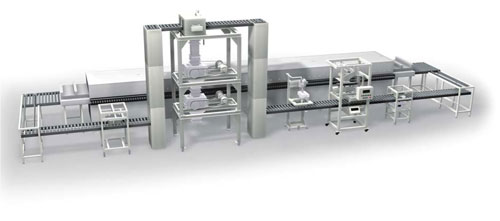 Sagger Tester

After the firing process the sagger tester catches cracked sagger using sensors to prevent potential problems.

Recovery Machine

The recovery machine overturns the sagger into closed containers to collect the powder material.

Crusher

The Crusher crushes the powder material to the proper condition using units such as roll crushers, jaw crushers and other units.

Sagger Cleaner

Using brushes, the sagger cleaner absorbs powder materials that are attached around the sagger.

Feeder

The feeder supplies powder material according to the characteristics of the powder. Options include vibration and screw method.

Leveling Machine

The surface of the sagger is quickly and evenly smoothed with the leveling machine.