PRODUCTS
Lambda Ace BWFA type
Engineering
Heating Furnaces / Kilns

Drying Furnace

Batch Kiln

Far Infrared Conveyer Furnace

Other Drying Furnaces

Roll to Roll Far-infrared Heating Furnace

Far Infrared Heater

Firing Kiln

Roller Hearth Kiln

Rotary Kiln

Batch Kiln

Refractory

Search by industry or usage

Energy

Electronics

Automobiles

Displays and lighting

Other

Mixing Technology

SM Engineering Equipment

Heating and Cooling Systems

Mixing Systems

Powder and Liquid Dispersion System

Reaction System

Laboratory Test Systems

Heat Exchangers

Static Mixer (SM)

Gas absorption(Option)

Homogenization

Miixing

Option Parts

Search by industry or usage

Cooker / Steam Mixer

Cutting Machine (Thin Cut Master : TCM)

Filtration Systems

Search lubricants

Coolant Filtration Systems

Centrifuge

Coolant Tank Unit

Magnetic Separator

Cyclone Separator

Paper Filter

Backwash Filter

Centralized Filtration Systems

Search filtration materials

Filtration Related Systems

Ceramic filter
Technical Support

Catalog Download
Compatible with super fine particle sludge for carbon, carbide etc !
BWFA-7
Total dimension:1300W×860L×1900H mm
Enhanced filtration efficiency
High precise filtration (partcle size up to about 1μm) is performed using new developed slit type filter. Running cost will be reduced due to non-use of fileration aid.
As Consumabeles is not generated less than like a conventional disposable cartridge filter, Running cost will be reduced.
Backwashing is effectively achieved due to original system and the clog of filter is restrained.
Concentrated sludge is recovered easily to outside system. Easy maintainance due to symple structure.
Super fine processing for honing, lapping, and super finish grinding.
Super fine particle sludge for carbon, carbide etc.
Mechanism of sludge recovery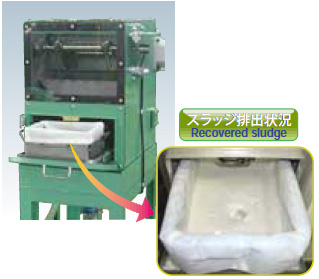 Number of filter elements
One
Three
Seven
Thirteen
Nineteen
Model
BWFA-1
BWFA-3
BWFA-7
BWFA-13
BWFA-19
Layout
Filtration area
0.13m2
0.39m2
0.91m2
1.69m2
2.47m2
Max flow rate *1
7ℓ/min
21ℓ/min
49ℓ/min
91ℓ/min
133ℓ/min
Start backwashing
0.2MPaG
Average backwashing time
3min
Power
AC200V 50/60Hz
Required air pressure
0.4MPa
Nominal filtration rating *2
1µm
*1:Max flow rate is the flow in pure water. The condition of treated liquid such as SS concentration, viscosity, and temperature varies the flow rate.
*2:Nominal filtration rating means the filtration ability of element that capture many particles (over 50 %) above shown. This value is a performance test result done at our facility.
*3:The ability above might not be performed, when a little water is mixed to oily coolant.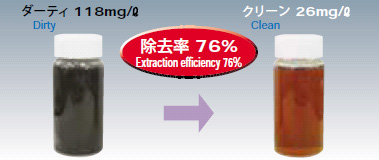 Work:Engine cylinder block
Processing:horning grinding
Coolant:Oily coolant
Average particle size of dirty liquid:1.5μm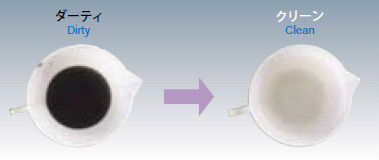 Work:Carbide tool
Coolant:Water soluble coolant