PRODUCTS
Drum filter for cutting
Engineering
Heating Furnaces / Kilns

Drying Furnace

Batch Kiln

Far Infrared Conveyer Furnace

Other Drying Furnaces

Roll to Roll Far-infrared Heating Furnace

Far Infrared Heater

Firing Kiln

Roller Hearth Kiln

Rotary Kiln

Batch Kiln

Refractory

Search by industry or usage

Energy

Electronics

Automobiles

Displays and lighting

Other

Mixing Technology

SM Engineering Equipment

Heating and Cooling Systems

Mixing Systems

Powder and Liquid Dispersion System

Reaction System

Laboratory Test Systems

Heat Exchangers

Static Mixer (SM)

Gas absorption(Option)

Homogenization

Miixing

Option Parts

Search by industry or usage

Cooker / Steam Mixer

Cutting Machine (Thin Cut Master : TCM)

Filtration Systems

Search lubricants

Coolant Filtration Systems

Centrifuge

Coolant Tank Unit

Magnetic Separator

Cyclone Separator

Paper Filter

Backwash Filter

Centralized Filtration Systems

Search filtration materials

Filtration Related Systems

Ceramic filter
Technical Support

Catalog Download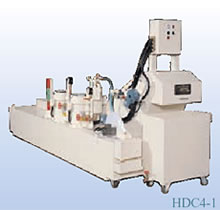 The Drum Filter is a coolant filtration system that uses a rotating drum-shaped filter mesh to remove particles about 60 μm in size from a liquid coolant. Neither the particle substance nor coolant fluidity can be chosen. Continuous operation for extended periods of time without interruption is possible.
The machine performs an in-tank primary sedimentation treatment on a coolant fluid flowing into the dirty tank. Coolant is forced through the surface of a rotating drum filter immersed in the dirty tank by a differential depth pressure and flows into the clean tank to be fed to the processing machine. A conveyor belt is installed in the dirty tank, and sedimented particles are regularly discharged.
Model
Processing rate (#90)
(water-soluble )
Drum diameter
External dimensions
Fully automatic
L
W
H
HDC3-1
300 L/min
φ300mm
1450
300
1100
300kg
HDC3-2
700 L/min
φ300mm
1850
350
1150
360kg
HDC3-3
1000 L/min
φ300mm
2250
350
1150
420kg
HDC4-1
500 L/min
φ400mm
1650
300
1150
340kg
HDC4-2
1000 L/min
φ400mm
2100
350
1150
420kg
1Please contact a sales representative for future details about processing machines that handle 1,000 L/min or more.
*The processing rate will differ when using a #60 or #110 filter mesh.
| Filter mesh | Filtration precision | Applications |
| --- | --- | --- |
| #60 (250-μm holes) | Up to 100 μm | General grinding processes |
| #90 (160-μm holes) | 80 – 100 μm | In cases where processing precision is required or multiple materials are to be processed |
| #110 (135-μm holes) | Up to 60 μm | Gun drills, gun reamers |