Engineering
Heating Furnaces / Kilns

Drying Furnace

Batch Kiln

Far Infrared Conveyer Furnace

Other Drying Furnaces

Roll to Roll Far-infrared Heating Furnace

Far Infrared Heater

Firing Kiln

Roller Hearth Kiln

Rotary Kiln

Batch Kiln

Refractory

Search by industry or usage

Energy

Electronics

Automobiles

Displays and lighting

Other

Mixing Technology

SM Engineering Equipment

Heating and Cooling Systems

Mixing Systems

Powder and Liquid Dispersion System

Reaction System

Laboratory Test Systems

Heat Exchangers

Static Mixer (SM)

Gas absorption(Option)

Homogenization

Miixing

Option Parts

Search by industry or usage

Cooker / Steam Mixer

Cutting Machine (Thin Cut Master : TCM)

Filtration Systems

Search lubricants

Coolant Filtration Systems

Centrifuge

Coolant Tank Unit

Magnetic Separator

Cyclone Separator

Paper Filter

Backwash Filter

Centralized Filtration Systems

Search filtration materials

Filtration Related Systems

Ceramic filter
Technical Support

Catalog Download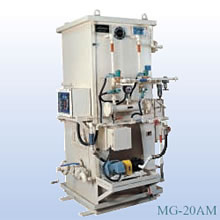 The coolant filtration system is a precision filtration apparatus for oil-soluble coolants that uses a high-density cubic element made from glass fiber.
Due to a fine pressure difference used for filtering, clogging can be avoided, and it can filter continuously for extended periods of time.
The dirty liquid is filtered through the multiple cubic filter surfaces installed in the A-O tank, and clean liquid flows through the collection pipe inside the cubic filter element when returned to the processing machine.
Fine pressure difference requires only a small lifting height for the dirty and clean liquid pumps, and therefore saves energy. In addition, filter regeneration uses the air backwash method and can be completed in a short amount of time.
Sludge produced during backwashing is automatically discharged from the machine by a discharge screw.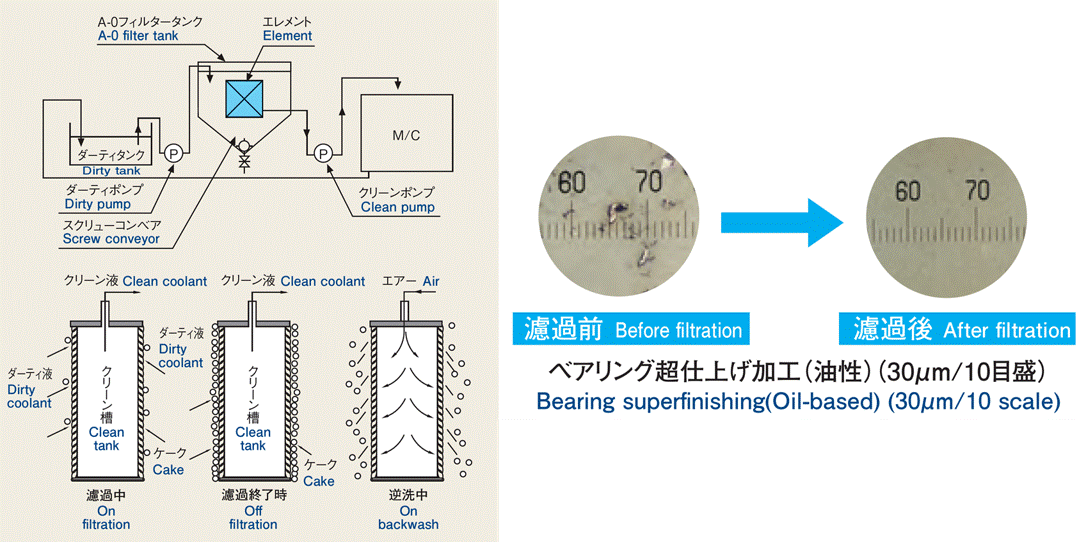 | Model | Processing rate (oil-soluble ) | Approximate unit dimensions | Weight | Stored oil volume |
| --- | --- | --- | --- | --- |
| MG-10 | 10 L/min | 800×650×2000mm | 420kg | 590L |
| MG-20 | 20 L/min | 1100×650×2000mm | 580kg | 800L |
| MG-30 | 30 L/min | 1000×950×2400mm | 950kg | 1200L |
| MG-40 | 40 L/min | 1100×1100×2400mm | 1040kg | 1890L |
| MG-50 | 50 L/min | 1400×950×2300mm | 1140kg | 1850L |
Model
Backwash
Sludge
Manual
operation
Push-button
operation
Automatic
operation
Manual
operation
Push-button
operation
Automatic
operation
HS
○
○
PM
○
○
AM
○
○
AP
○
○
AA
○
○