Engineering
Heating Furnaces / Kilns

Drying Furnace

Batch Kiln

Far Infrared Conveyer Furnace

Other Drying Furnaces

Roll to Roll Far-infrared Heating Furnace

Far Infrared Heater

Firing Kiln

Roller Hearth Kiln

Rotary Kiln

Batch Kiln

Refractory

Search by industry or usage

Energy

Electronics

Automobiles

Displays and lighting

Other

Mixing Technology

SM Engineering Equipment

Heating and Cooling Systems

Mixing Systems

Powder and Liquid Dispersion System

Reaction System

Laboratory Test Systems

Heat Exchangers

Static Mixer (SM)

Gas absorption(Option)

Homogenization

Miixing

Option Parts

Search by industry or usage

Cooker / Steam Mixer

Cutting Machine (Thin Cut Master : TCM)

Filtration Systems

Search lubricants

Coolant Filtration Systems

Centrifuge

Coolant Tank Unit

Magnetic Separator

Cyclone Separator

Paper Filter

Backwash Filter

Centralized Filtration Systems

Search filtration materials

Filtration Related Systems

Ceramic filter
Technical Support

Catalog Download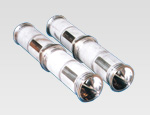 The element is fixed to the housing by an edge seal and parts exposed to liquids have a buffed fi nish.
There is no clearance between the element and the housing.
This series comes with 2 elements per module and supports disassembled inspection and cleaning.
Therefore, this product is ideal for sticky materials, liquids that are easy to get between the element and housing and fi ber slurry liquid processes.
| | |
| --- | --- |
| Diameter | 2"~18" |
| Material | 304S.S |
| Number of Elements | 4 (2 per module) |
| Element Fixing | Edge Seal (No Clearance) |
| Fixing | Flange (JIS10K-FF), Ferrule |
| Finish | Polished inner walls. |
Model
Nominal
Diameter
(ND)
Number of
Elements
Outside
Diameter (OD)
ODmm
Inner
Diameter (ID)
IDmm
Thickness
Tmm
Length
Lmm
Mass
kg
N26-50-32
2"
60.5
52.7
3.9
160
322
10
N26-65-32
2 1/2"
76.3
65.9
5.2
220
442
16
N26-80-32
3"
89.1
78.1
5.5
250
502
19
N26-100-32
4"
114.3
102.3
6.0
310
622
26
N26-125-32
5"
139.8
126.6
6.6
380
762
42
N26-150-32
6"
165.2
151.0
7.1
460
922
59
N26-200-32
8"
216.3
203.3
6.5
620
1242
91
N26-250-32
10"
267.4
254.4
6.5
770
1542
145
N26-300-32
12"
318.5
305.5
6.5
800
1602
192
N26-350-32
14"
355.6
340.0
7.8
880
1762
257
N26-400-32
16"
406.4
390.0
8.2
1000
2002
341
N26-450-32
18"
457.2
441.0
8.1
1130
2262
435