Engineering
Heating Furnaces / Kilns

Drying Furnace

Batch Kiln

Far Infrared Conveyer Furnace

Other Drying Furnaces

Roll to Roll Far-infrared Heating Furnace

Far Infrared Heater

Firing Kiln

Roller Hearth Kiln

Rotary Kiln

Batch Kiln

Refractory

Search by industry or usage

Energy

Electronics

Automobiles

Displays and lighting

Other

Mixing Technology

SM Engineering Equipment

Heating and Cooling Systems

Mixing Systems

Powder and Liquid Dispersion System

Reaction System

Laboratory Test Systems

Heat Exchangers

Static Mixer (SM)

Gas absorption(Option)

Homogenization

Miixing

Option Parts

Search by industry or usage

Cooker / Steam Mixer

Cutting Machine (Thin Cut Master : TCM)

Filtration Systems

Search lubricants

Coolant Filtration Systems

Centrifuge

Coolant Tank Unit

Magnetic Separator

Cyclone Separator

Paper Filter

Backwash Filter

Centralized Filtration Systems

Search filtration materials

Filtration Related Systems

Ceramic filter
Technical Support

Catalog Download
When mixing high viscosity liquids, the roles of the static mixers conversion process and division process are very important.
The Conversion process shuffles the fluids of the cylinder's wall and the center areas. The Division process separates the fluid in half. By repeating this process, the inequalities that occur in the fluid are eliminated.
Because of this, the role of a mixer does not stop at the conventional "mix A and B, but also helps to improve the inequalities related to the degree of viscosity, temperature, concentration, density, fl ow rate, stagnant time and heat history. Available are the N20 type for synthetic fi ber, the Thermo Mixer for extruders, and the Polymer Mixing Nozzle for injection molding.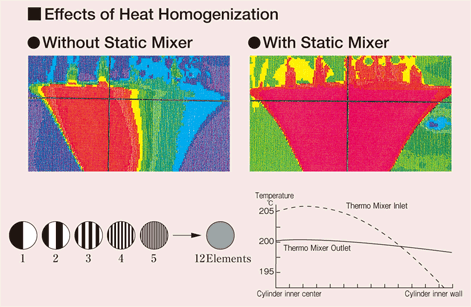 Use
Examples
Recommended items
Chemical fiber
spinning process use
●Improvement of the viscosity and the temperature irregularity in the distribution tube
●Dissimilar polymer blend

(Edge Seal Type)

●Improvement of the viscosity and the temperature irregularity in the spinning nozzle
●Mixing of additive
Sleeve
Spinning pack
Pump block
Extruder use
●Improvement of the viscosity and the temperature irregularity occurring in the extruder

<Thermo mixer>

Injection molder use
●Improvement of the viscosity and the temperature irregularity occurring in the injection molder

<Polymer mixing nozzle>
Homogenization Product List